Google Finance Alternative
An alternative to Google Finance, OptionVisualizer is a full-featured, easy-to-use search engine for stock options. With OptionVisualizer, you'll find interesting and unique investment ideas. Plus, you'll gain access to historical data that is unavailable through any other service.
Join today using code GOOGLE to get 30% off your first three months.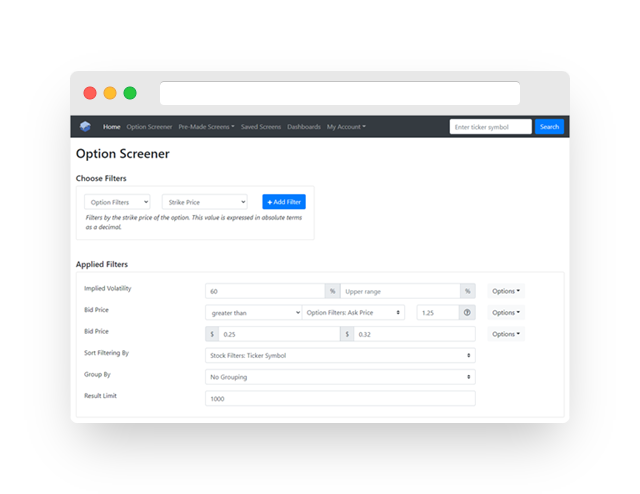 Feature Comparison
| | OptionVisualizer | Google Finance |
| --- | --- | --- |
| Stock Screening | | |
| Option Screening | | |
| Compound Filters | | |
| Current Option Data | | |
| Historical Option Data | | |
| Option Strategies | | |
| Email support | | |
| Focused on simplicity | | |
Looking for an alternative to Google Finance? See how OptionVisualizer can help your investing process.
Google Finance is a great tool and be can useful for certain investors. The service is particulary strong when it comes to quickly looking up stock prices or option data. However, Google Finance has no capabilities to construct stock or option searches, nor does it allow you to search based on option strategies. OptionVisualizer in unique from Google Finance in a few different ways. OptionVisualizer has a years' worth of historical data for every stock option and all associated data, allowing you to view the trend over time. Also, OptionVisualizer has a unique interface that allows for constructing complex searches using a simple interface and finding unique investment ideas.